Customize Your Perfect Engagement Ring
Step 1 – Consult with our Bridal Experts, virtually or in person.
Step 2 – Allow 4 – 6 weeks for customization prior to engagement.
Step 3 – Choose your center stone (1 – 2 appointments).
Step 4 – Choose your favorite setting and metal.
Step 5 – Pick up your ring or use insured delivery. We'll include a complimentary appraisal and cleaning kit.
Step 6 – A guaranteed yes!
Choose Your Ring Setting
Features just one diamond
Features small diamonds along the band of the ring
Features three diamonds set horizontally in a row
Features a collection of pavé that encircles a center gemstone
The Four C's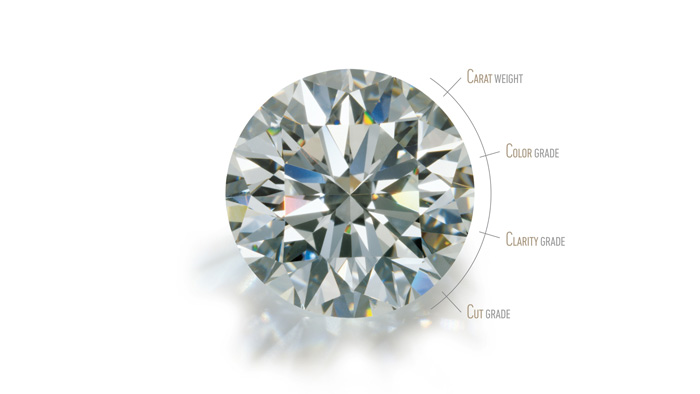 Cut
When a diamond is cut to ideal proportions, light entering from any direction is completely reflected through the top and dispersed into a display of sparkling flashers and rainbow colors.
Carat
A metric "carat" is defined as 200 milligrams. Each carat is subdivided into 100 'points.' This allows very precise measurements to the hundredth decimal place. A jeweler may describe the weight of a diamond below one carat by its 'points' alone.
Color
Many of these diamond color distinctions are so subtle that they are invisible to the untrained eye; however, these distinctions make a very big difference in diamond quality and price.
Clarity
Many inclusions and blemishes are too tiny to be seen by anyone other than a trained diamond grader. This is why expert and accurate assessment of diamond clarity is extremely important. Knowing what diamond clarity truly means helps you understand the factors that contribute to diamond quality and price.
Chicago's Trusted Diamond Engagement Ring Dealer
Marshall Pierce & Co. is an independently owned family business in Chicago, Illinois – our home town! For over 90 years, we've offered the very best fine jewelry, diamond engagement rings, and wedding bands. We craft pieces ideal for small gifts and everyday wear, as well as exceptional jewels for celebrating life's biggest moments. When you're shopping for your perfect engagement ring, we'll guide you every step of the way! Our goal? To be your home for all things jewelry – and to make you feel like family.

– The Bern Family
Working with an Engagement Ring Specialist
To schedule an appointment with a GIA Certified gemologist, please send us an email. We have helped hundreds of couples in choosing the perfect engagement ring, and know that each couple deserves a dedicated, personal experience.
Sowa Marshall Pierce & Company Chicago Engagement Ring
Minchuk Marshall Pierce & Company chicago engagement
AG331BW Lifestyle Image Marco Bicego Chicago Marshall Pierce & Company
Marshall Pierce Chicago Diamond Engagement Ring
Marshall Pierce Company Engagement Chicago
Engagement Marshall PIerce Chicago
Mincuk Chicago Marshall Pierce & Company Engagement
Erik & Aly Marshall Pierce Success Stories